This blog has been compensated by Collective Bias, Inc. and its advertiser. All opinions are mine alone. Read my disclaimer page for more information. #ThinkOutsideTheWipe #CollectiveBias
As someone who has struggled with being "controlling" or "critical," I entered motherhood with the goal of having an open mind and an open heart when it came to my child(ren). I had witnessed the negative effects that my snarky, critical comments had on my friendships, romantic relationships, and even my inner thoughts. There were days that I got so caught up in perfecting everything, that I lost the ability to enjoy any of it. My little(s), I decided, would not be victim of my critical side. I struggled with this goal most of my pregnancy and early motherhood journey (so much so that it drove me crazy), but eventually took steps to embrace the mess of motherhood and childhood.
Through a few years of motherhood, I've adjusted to a louder, messier home and lifestyle. I can honestly say that it has been for the better – for both of us. We've even started cooking some recipes together, so I'm sharing our favorite breakfast recipe – 3-Ingredient Pumpkin Pancakes – just in time for Fall! We keep Huggies® One & Done® Refreshing Wipes close by for any spills or smears! We keep the handy soft packs to take on the go, as well as keep around the house. The Huggies One & Done Wipes are super thick, so they can handle a good scrub of messes, both big and small! We buy our Huggies wipes from Sam's Club to save money and time, with their membership and subscription service! (Yes, you can literally set it up to auto-ship wipes as frequently as you'd like!) Hover over the photo below to click through to Samsclub.com and buy them (they're free shipping right now)!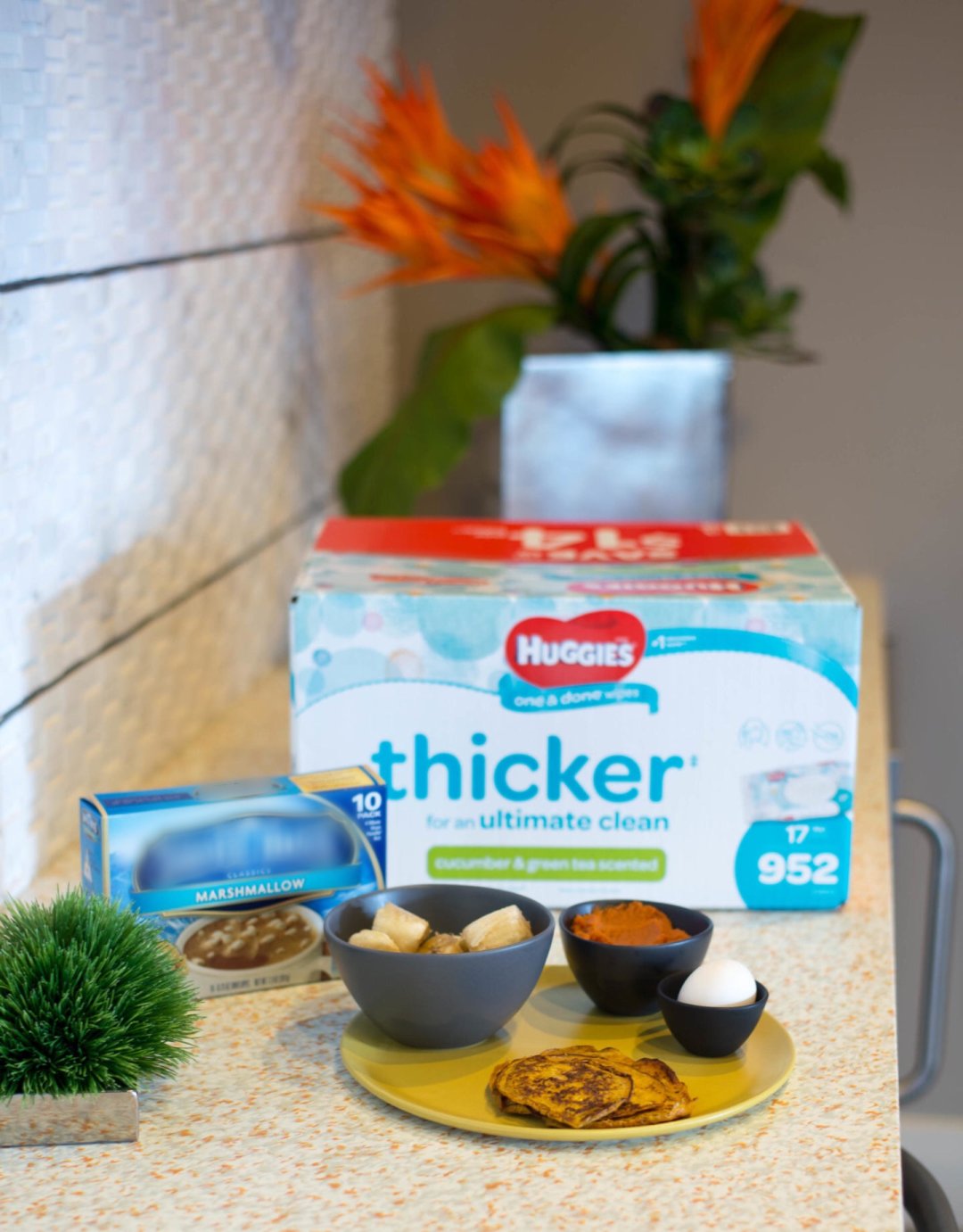 OR head shop your local Sam's Club, in the Baby Care aisle.
3-Ingredient Pumpkin Pancakes
Ingredients: 2 bananas, 2 eggs, and 1 cup of canned pumpkin (makes about 6-8 mini-sized pancakes)
1. Use a whisk or potato-masher to mash the bananas
2. Combine the mashed banana, pumpkin, and eggs
3. Pour pancake mix into 4 inch circles onto a non-stick pan (or non-stick spray) over medium heat
4. When pancakes are able to slide easily (without piecing apart), use a flat spatula to flip them over
Enjoy your pumpkin pancakes!